ROOMS
Immerse into Tranquil Repose
Immerse into rooms with impeccable attention to detail.
Release everything and breathe.
Amenities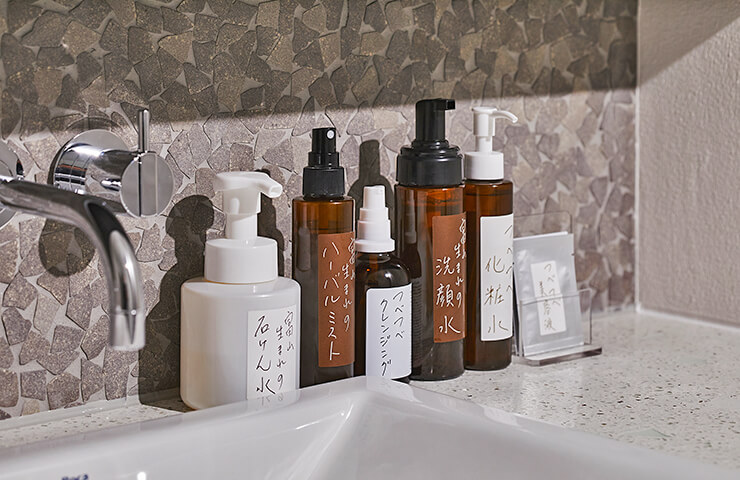 Rental equipment
Body lotion
Dental floss
Shower cap
Hair elastic
Bar soap
Mouthwash
Bath salt
Deodorant
Sewing set
Mobile charger
Bluetooth speaker
Enjoy our original cosmetics (Cleansing oil, Cleansing foam, Lotion, and Serum) and fragrance mist. The items are made by high quality organic ingredients, and offer benefits for your skin. You can buy at our shop.
Other Amenities
Original face towel
Tapered toothbrush
Black cotton swab
Men's amenities

Hair Comb & Brush
Razor
Shaving foam
Women's amenities
<For rooms with spa>
Shampoo
Hair treatment
Body soap
Bathrobe
Various towels
Bath amenities are provided by Toyama's organic brands < Antianti Organics >.
Room equipment
Original KIMONO(YUKATA)
Original Loungewear
Tabi (Socks for KIMONO)
Leather soled sandals
Slippers
---
Room Charge(Rate per room for 2 persons)
| | |
| --- | --- |
| LUXURY SUITE in the main building | ¥86,500〜 / person |
| LUXURY SUITE with spa in the annex building | ¥60,500〜 / person |
| PREMIUM SUITE with spa in the annex building | ¥58,000〜 / person |
| LUXURY SUITE in the annex building | ¥58,000〜 / person |
| PREMIUM SUITE in the annex building | ¥53,000〜 / person |
| PREMIUM SUITE in the main building | ¥49,500〜 / person |
| SUITE in the main building | ¥46,000〜 / person |
| DULUXE | ¥42,500〜 / person |
| STANDARD | ¥35,000〜 / person |
| ※Including consumption tax and service fee. | |
---
Check in 15:00
/
Check out 11:00 AM