River Retreat Garaku's Green Renovation Project: Transformation of Guest Rooms into
Sustainable and Luxurious Spaces
By: Miho Soga (Eco-Writer)
River Retreat Garaku has renovated rooms 201 and 202 with sustainability and luxury in mind. Let's walk through the journey behind this project; how it all started and the actual photos of the rooms.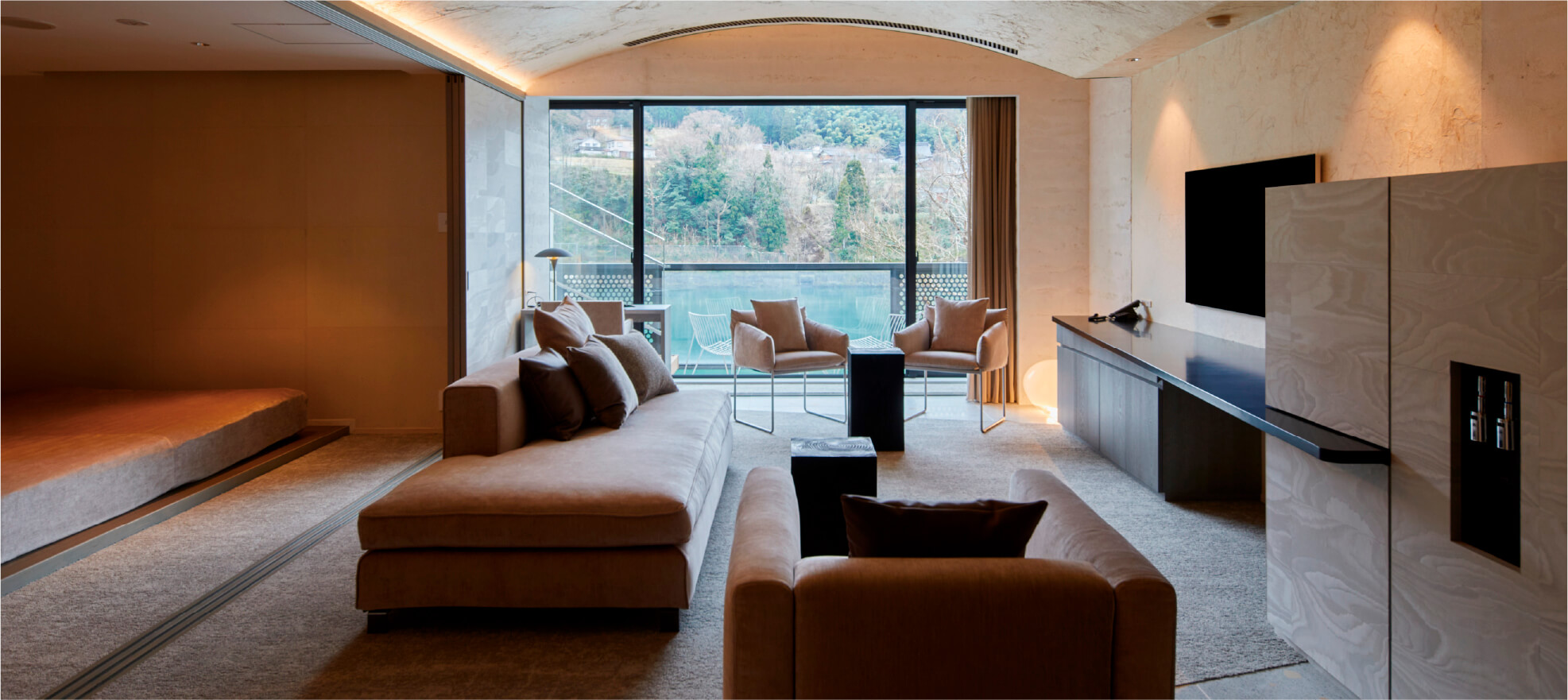 "Upcycling" is the process of adding design and ideas to discarded materials to create exciting new products. This term originated in Europe in the 1990s and has since spread worldwide, with various products being born, mainly in the fashion industry. In the world of architecture, "Renovations" are also becoming more popular, transforming existing buildings with major refurbishments to adapt to modern lifestyles, including homes, apartments, and commercial spaces. This could be considered upcycling for buildings.
Launching the "Green Renovation Project"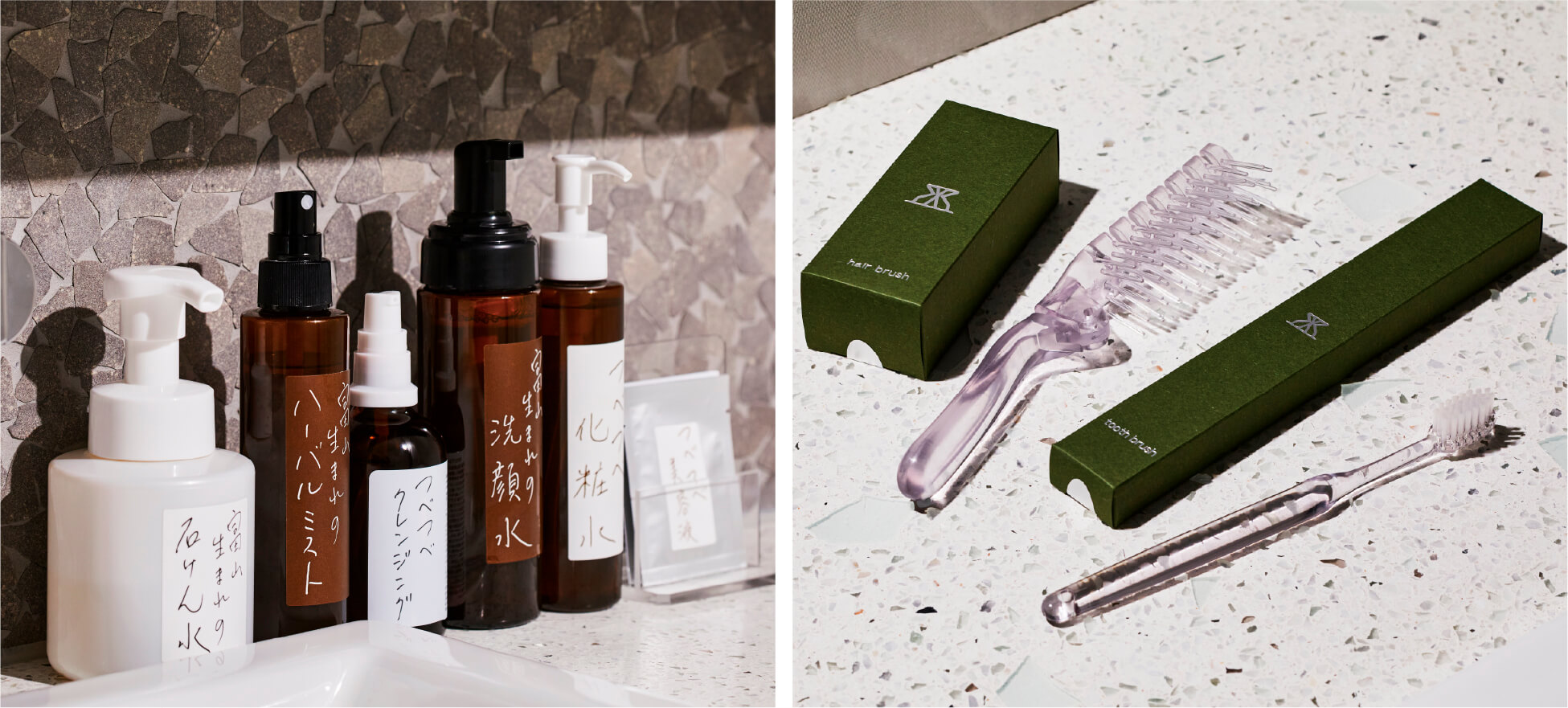 Amidst this trend, the idea for a renovation project was born at River Retreat Garaku. The staff shared their thoughts: "Until now, our hotel has implemented various sustainable initiatives from different perspectives, based on the insights of our staff. In our guest rooms, we provide biodegradable toothbrushes and hairbrushes made from biomass materials like wood and paper, as well as our original organic skincare products made using unrefined honey from Toyama. By eliminating individual containers for these products, we contribute to reducing plastic waste. In our restaurant, we focus on locally sourced ingredients and seasonal produce, incorporating wild vegetables, herbs, mushrooms, and game meats into our dishes." These efforts have been carried out in a subtle yet effective manner. So, when it was time to renovate the guest rooms, it was made sure that sustainability is of utmost consideration. It was also thought to be a lot easier this time since more sustainable materials are available from companies and craftsmen located within Toyama.
Thus, the "Green Renovation Project" was launched in collaboration with YES Co., Ltd., a local company that produces and sells upcycled furniture and provides space planning, and Dot Studio, an architectural firm that specializes in renovating vacant homes.
The Most Challenging Aspect: Creating a Sense of Luxury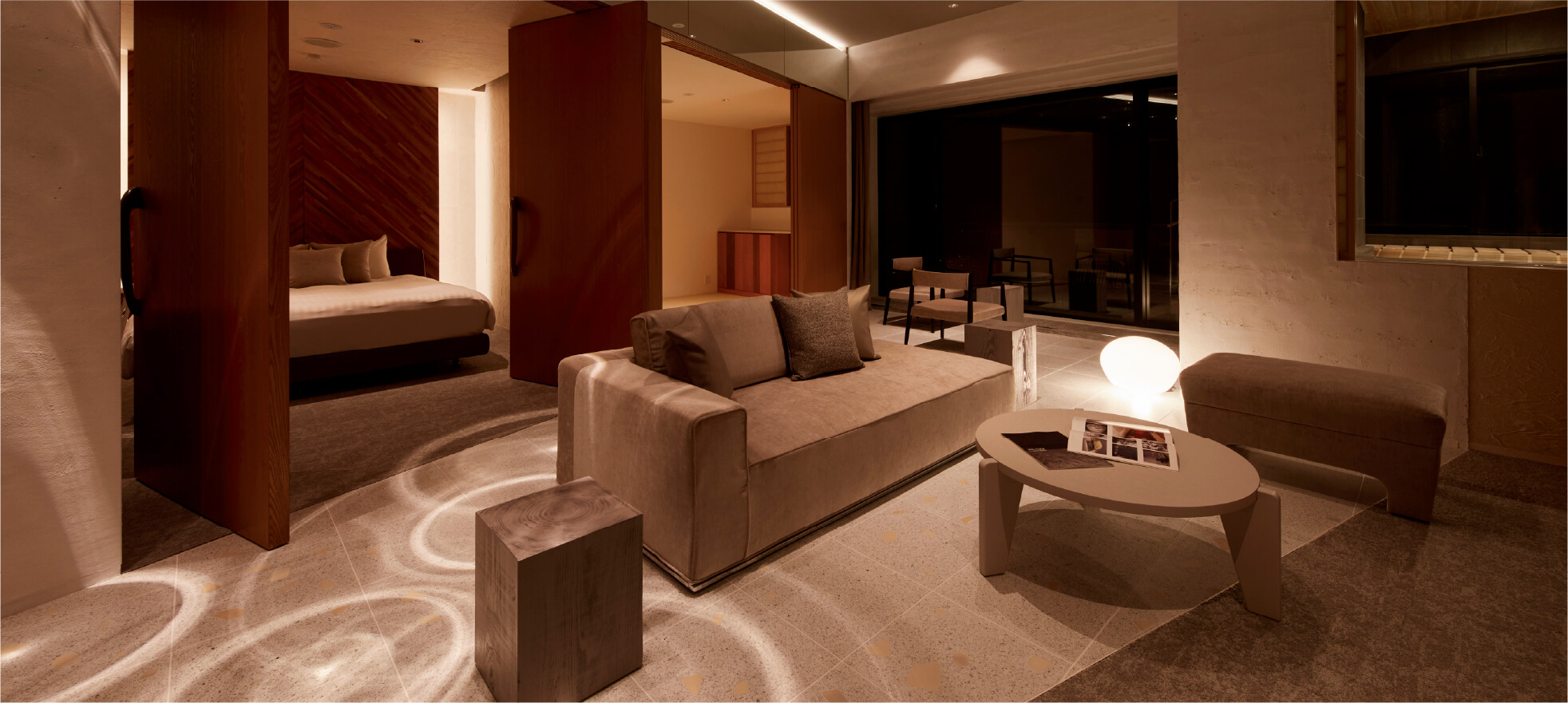 For the designers in charge of planning and design, the most challenging aspect was creating a sense of luxury. Although they searched for examples, there were very few to be found. However, they believed that the scarcity of examples made the project more worthwhile and meaningful, so they proceeded with trial and error while devising creative solutions. As a result of their efforts and ingenuity, they succeeded in creating a space that balances both "Sustainability × Luxury," showing that luxury can indeed be achieved in a space that is mindful of sustainability.
The guest rooms meticulously designed down to the smallest detail have been completed.
■Japanese Paper Walls and Ceiling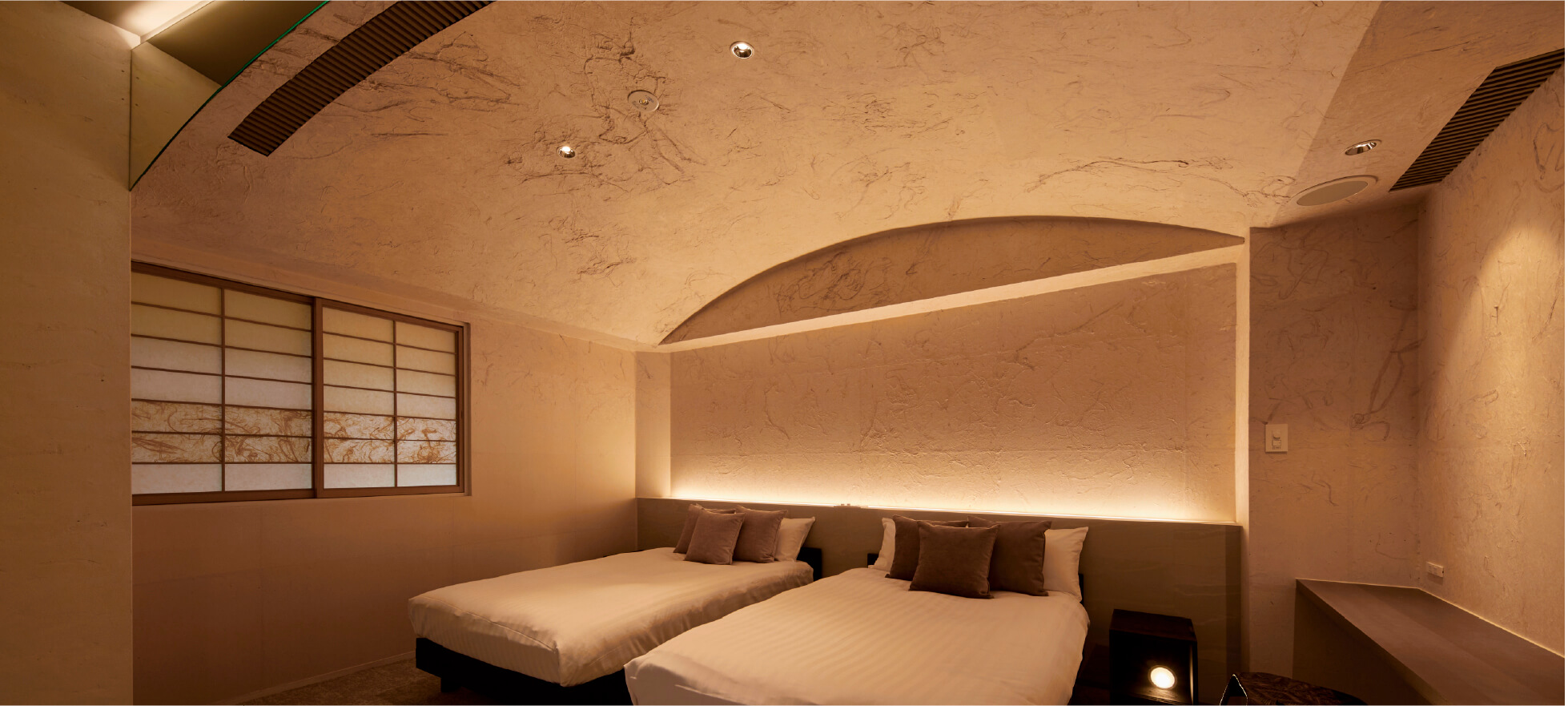 The walls and ceiling of the rooms are adorned with Japanese paper made by Takakuni Kawahara, a Japanese paper artisan living in Tateyama Town. Mr. Kawahara cultivates "kozo", the raw material for Japanese paper, and creates original, unique works. Mr. Kawahara was asked for collaboration since the vision strongly resonated with his use of all-natural materials sourced from the forest and his traditional techniques, unchanged for over 100 years.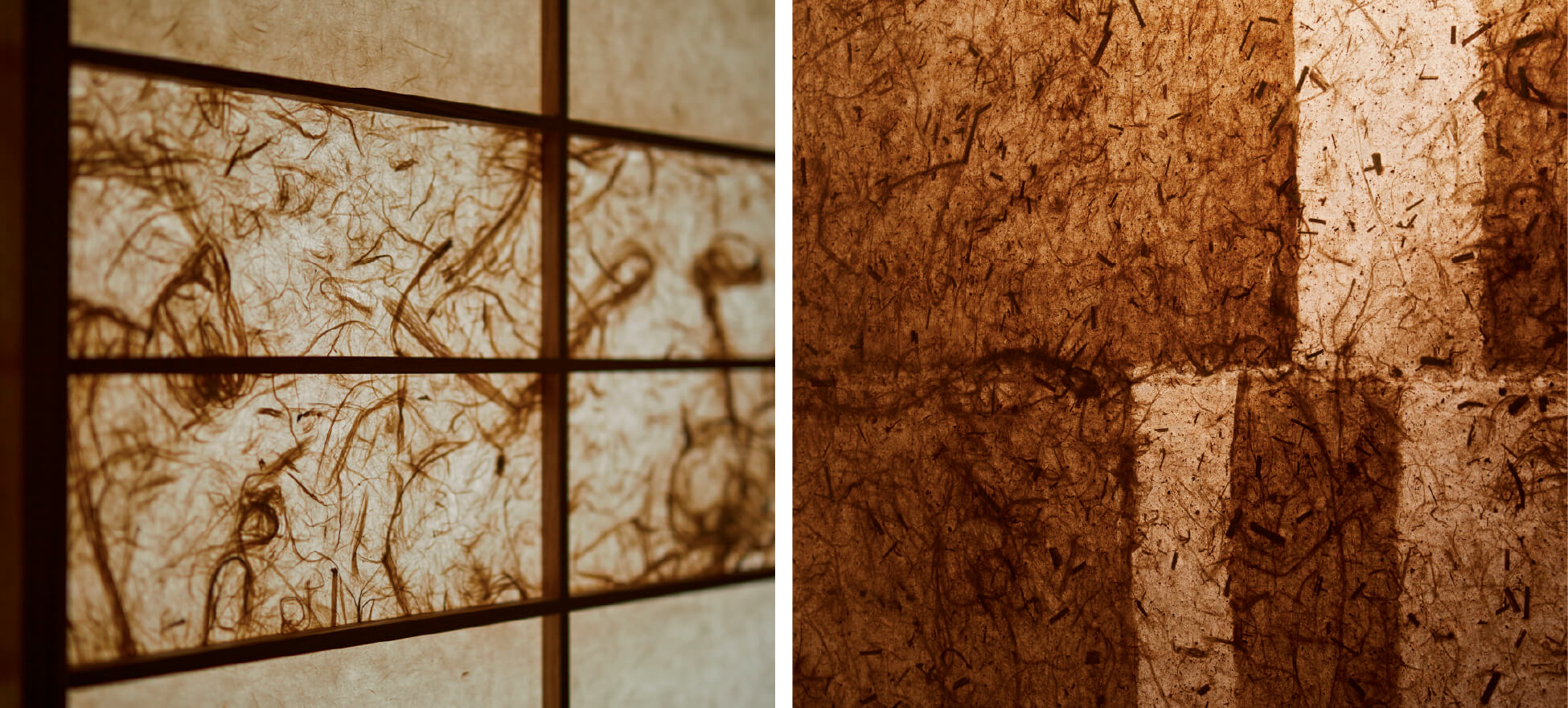 The walls and ceiling of the guest rooms showcase the various expressions of Japanese paper, with effects such as the placement of kozo and rice straw, color gradation, texture, and wrinkles. The theme is the vitality of nature. Surrounded by Japanese paper walls and ceiling, a sense of tranquility reminiscent of being in a forest envelops the space. The Japanese paper walls, which appear similar to the earthen walls with soil sieved into Room 202, partially allow light to pass through, offering a unique experience to guests.
■Custom-made Terrazzo Tiles for Flooring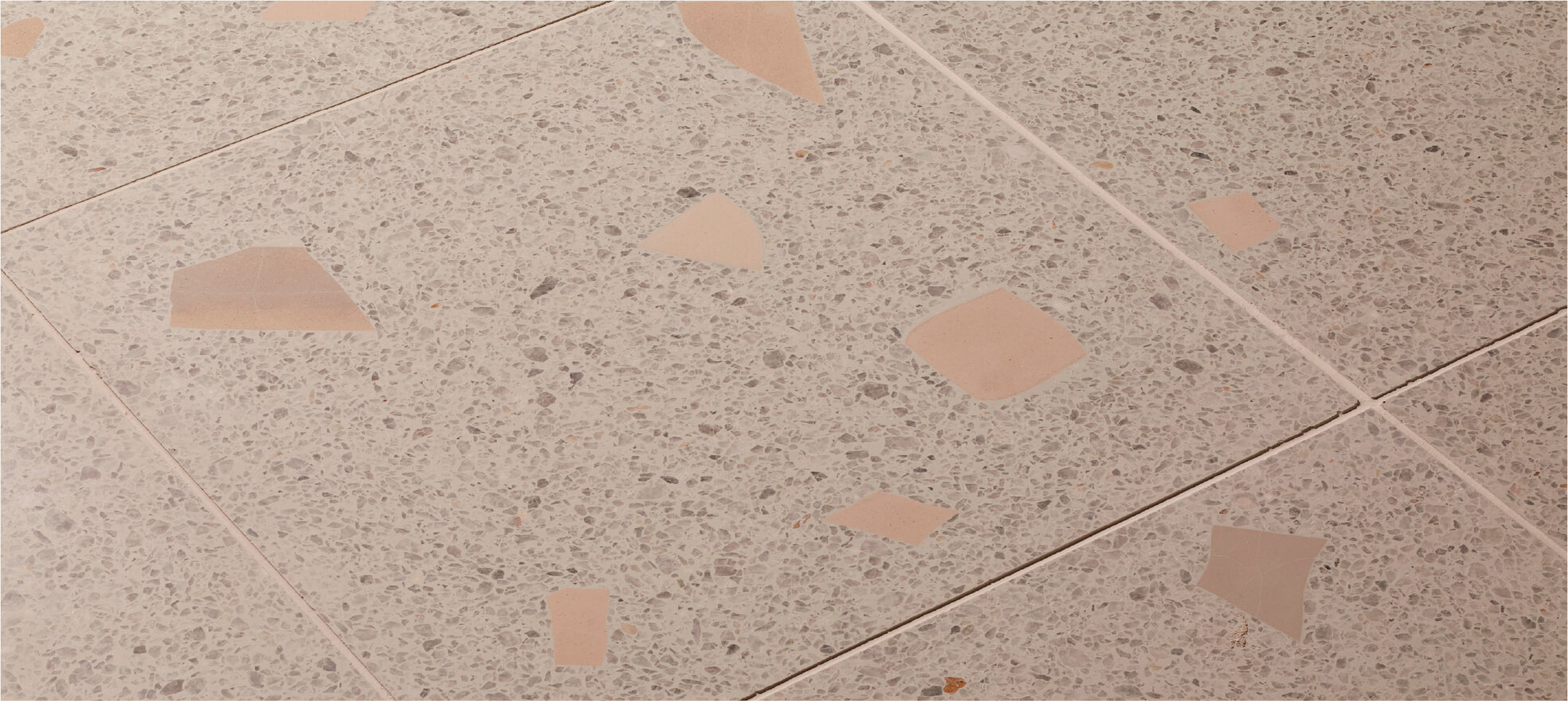 The tiles used for the flooring are made from waste materials generated during the creative process of local ceramic artist Yo Shakunaga, which were meant for garbage. These materials were mixed into 40cm square tiles, resulting in unique tiles with various colors and shapes. According to the design team, " We were able to create these tiles together with a local manufacturer who specializes in custom-made terrazzo tiles, iterating through multiple prototypes in close proximity."
In addition, the mugs created by Yo Shakunaga are also used in the guest rooms.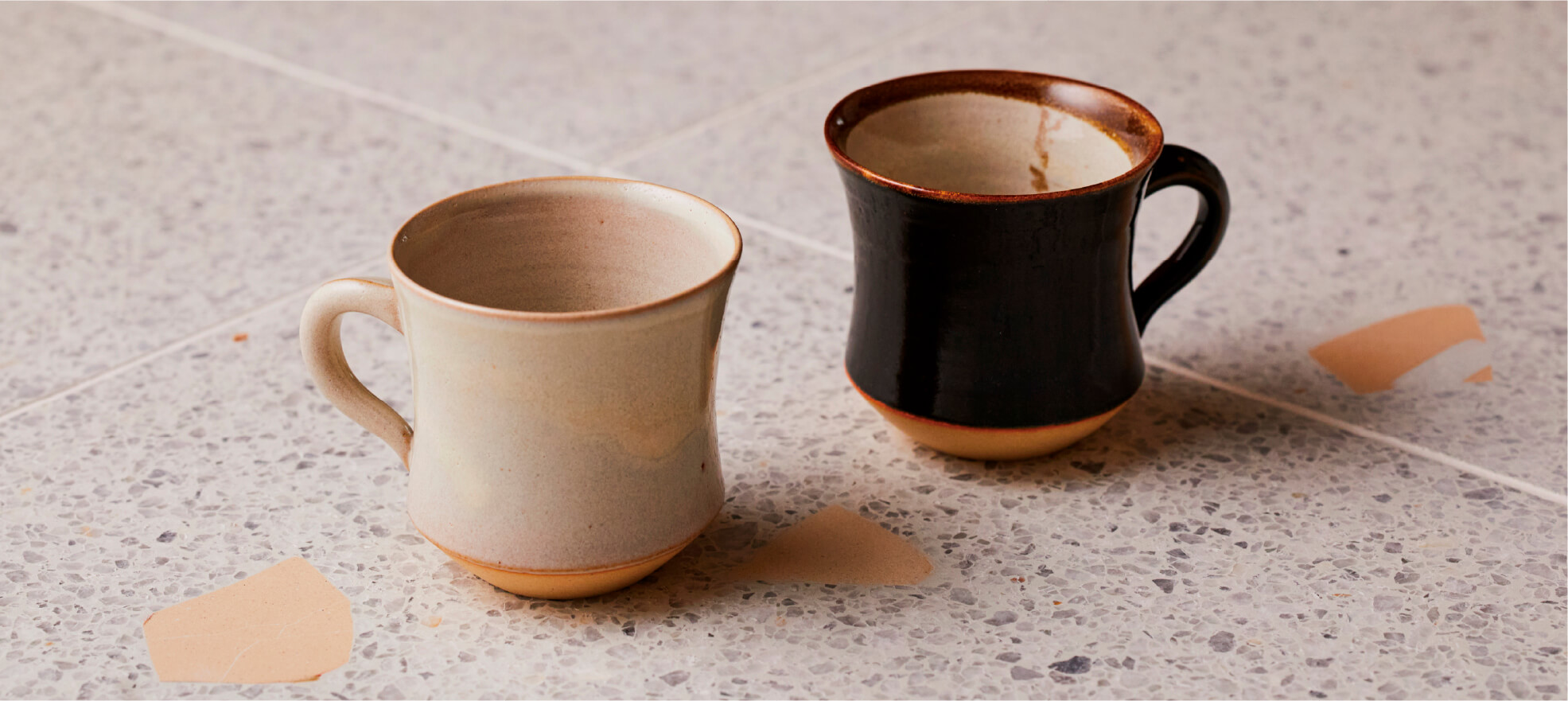 ■Carpet Made from New Material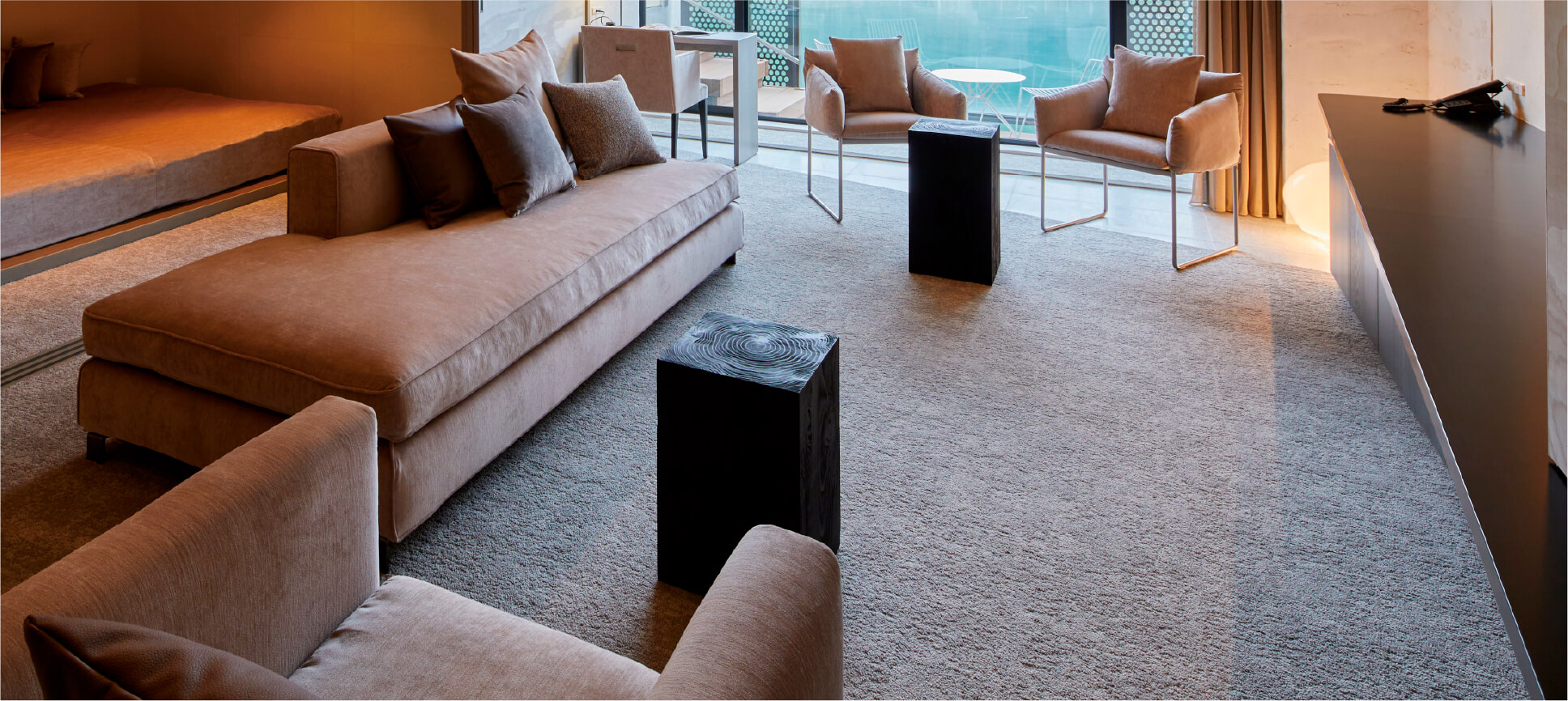 There is something special behind the carpet laid on the living room floor where guests can relax. The yarn used as a material is actually made from discarded fishing nets. Through cutting-edge technology, the nets have been transformed into a high-quality carpet material.
■Lighting Using Recycled Glass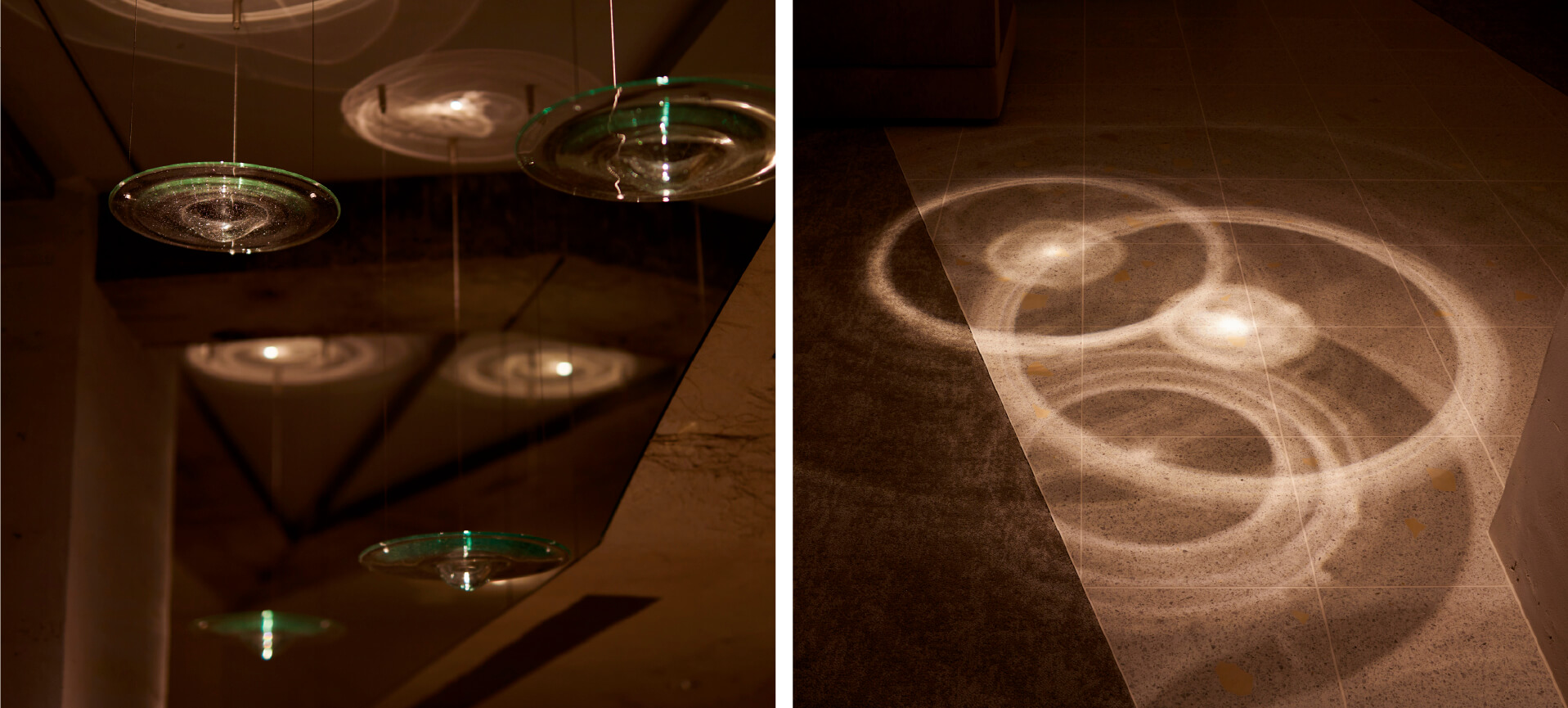 Several lights made from recycled glass, which was previously difficult to handle and created from fluorescent tubes, are placed in the guest rooms. The lights emit a shimmering glow reminiscent of the water surface in Jinzu river, creating a fantastic ambiance. The glasswork is crafted by Shunji Sasaki, a glass artist living in Toyama. Furthermore, the glasses created by Mr. Sasaki are also used in the guest rooms.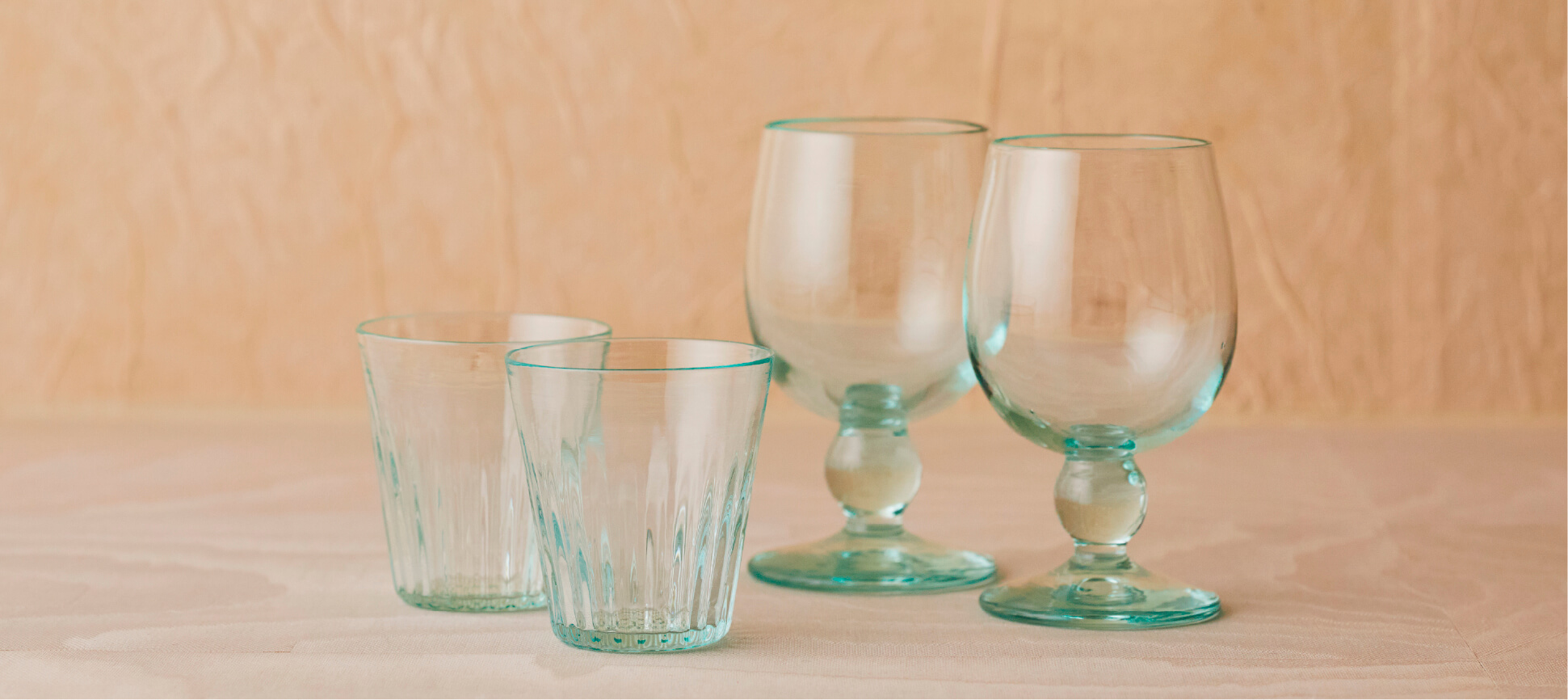 ■Upcycled Furniture
The guest room furniture consists of cherished, carefully selected pieces that have been in use since the hotel's opening in 2000. Skilled local craftsmen were enlisted to upcycle the furniture by repainting and reupholstering it.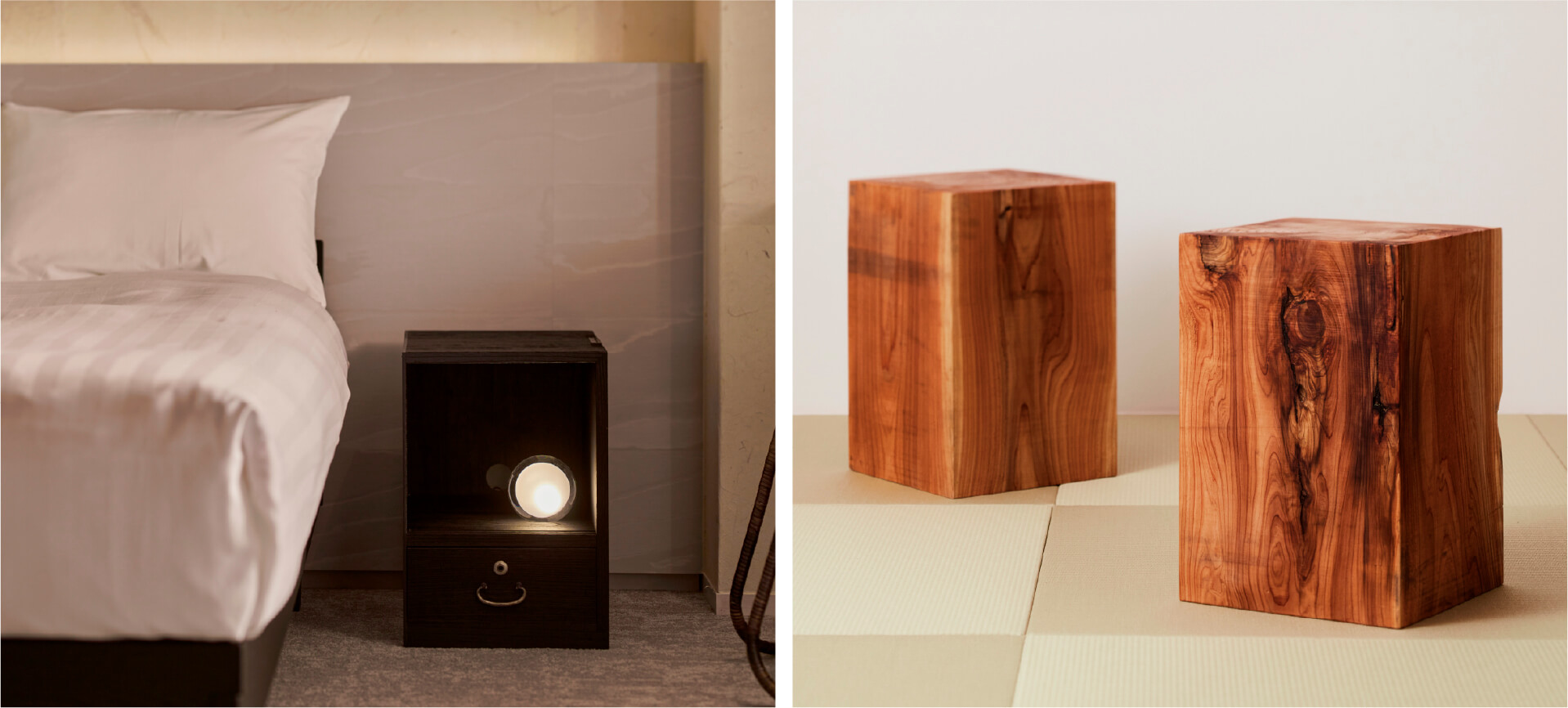 The newly placed wooden side table is made from Himi cedar, a local wood that was meant to be discarded. The side table was also created by upcycling old chests of drawers collected within the prefecture, which is a specialty of "YES Corporation".
■Tissue Covers Designed by a Young Duo of Designers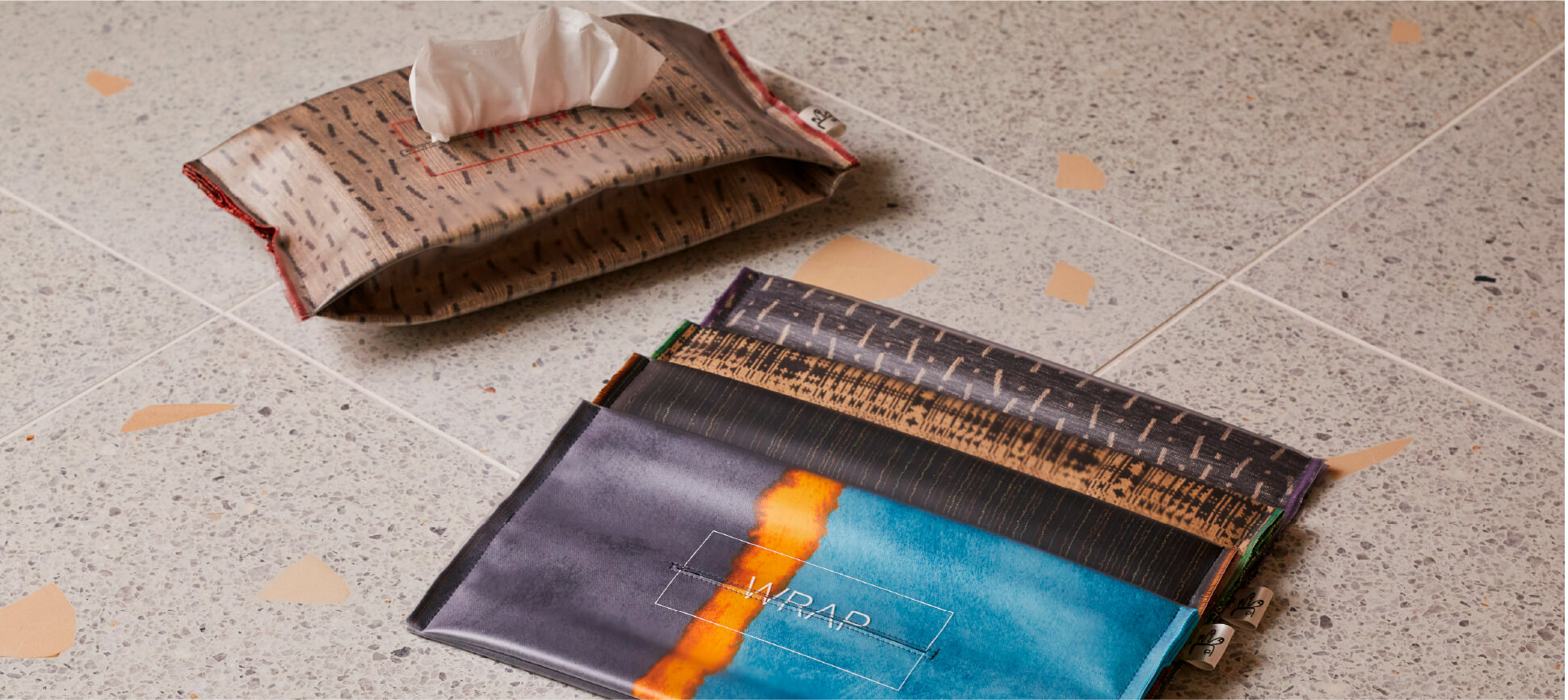 The tissue covers were created by "WRAP", an interior and apparel brand from Kurobe City that makes clothing and accessories from vintage fabric. The young designer duo of the brand was excited to work with unique and beautiful fabric and enjoyed the creative process. The hotel's stored bedspreads were upcycled to make the tissue covers with waterproof feature for practicality.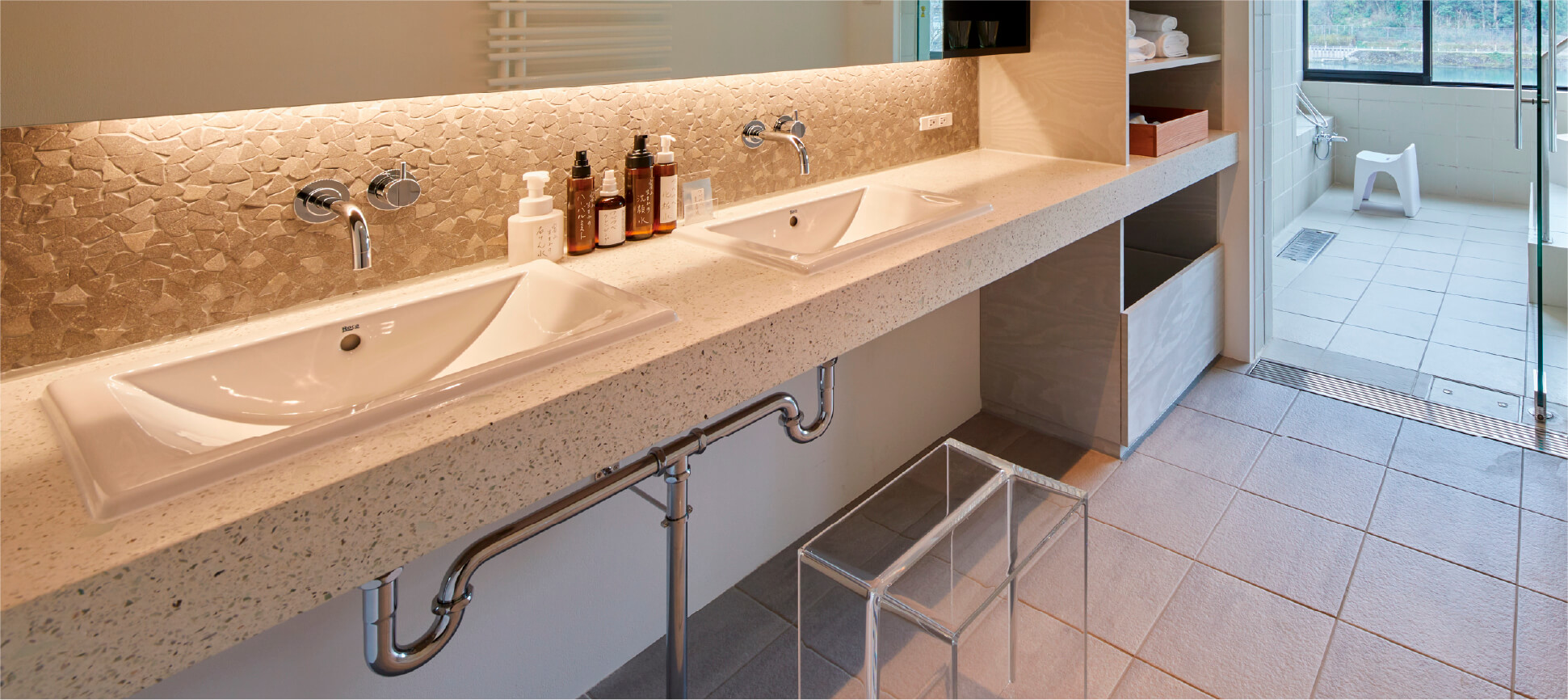 Other sustainable features include a washbasin counter finished with a material called "BEAL STONE," which is made from glass fragments collected from glass artists in Toyama, and custom-made furniture created by combining scrap materials from other furniture pieces.
In the renovated guest rooms, the hotel continues to prioritize quality and comfort since its opening. To achieve this, Italian luxury brand furniture with a pleasant touch and comfortable seating was selected and has been carefully maintained and used over the years. The renovated guest rooms inherit this commitment, creating a simple yet genuinely comfortable and high-quality space.
Making Sustainable Initiatives Common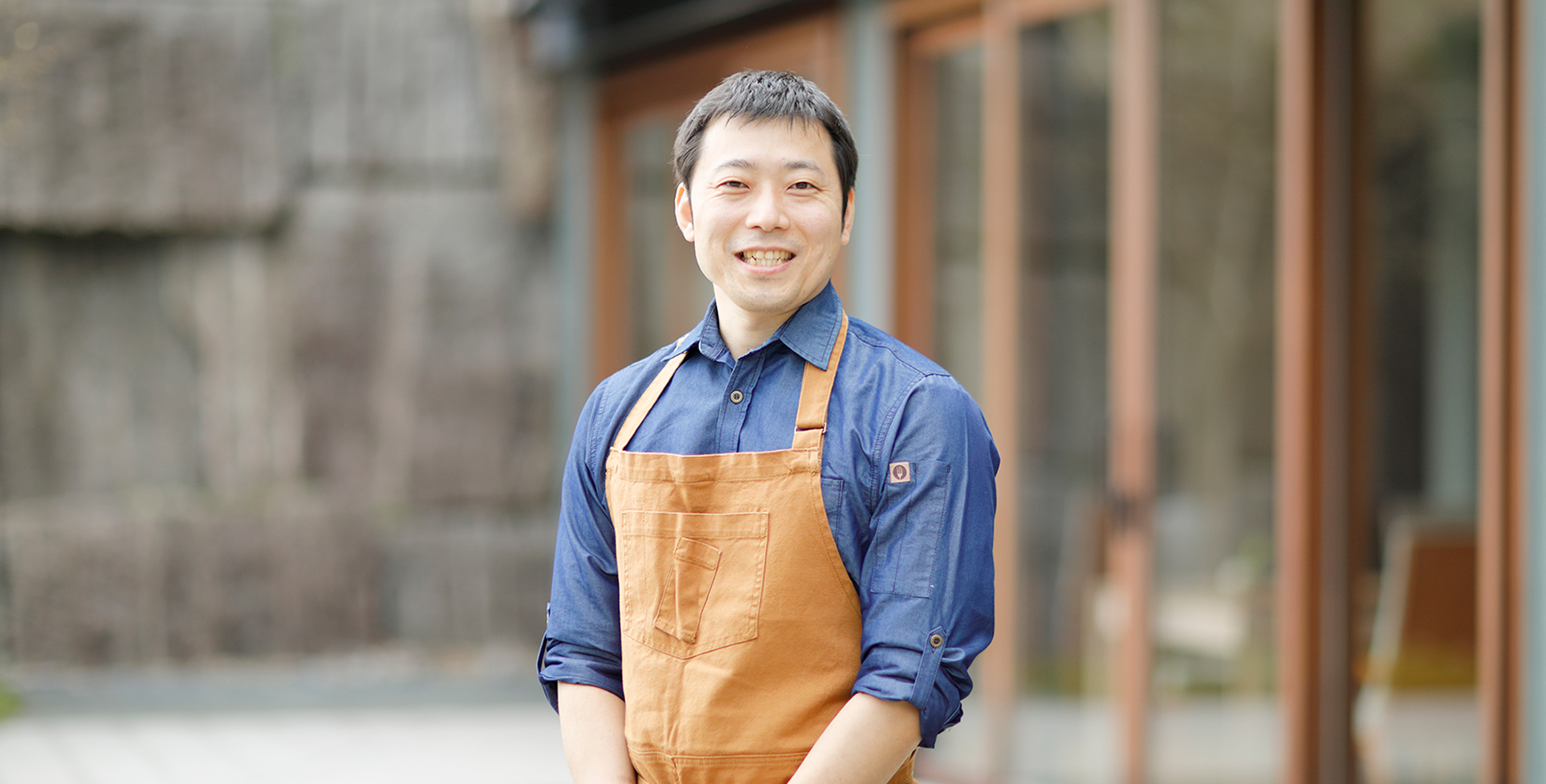 Trésonnier Chef Ippei Tanaka
River Retreat Garaku has been implementing various initiatives over the years.
Since its opening in 2020, the hotel's restaurant, Trésonnier, has been pursuing genuine, robust flavors. Aiming for local production and consumption, the chef has grown a wide variety of pesticide-free, organically cultivated vegetables at the nearby company-owned farm. These freshly harvested vegetables are then prepared and incorporated into the restaurant's course meals. Additionally, food waste from cooking, such as fish innards, is composted and used as fertilizer in the fields, creating a food cycle around the hotel.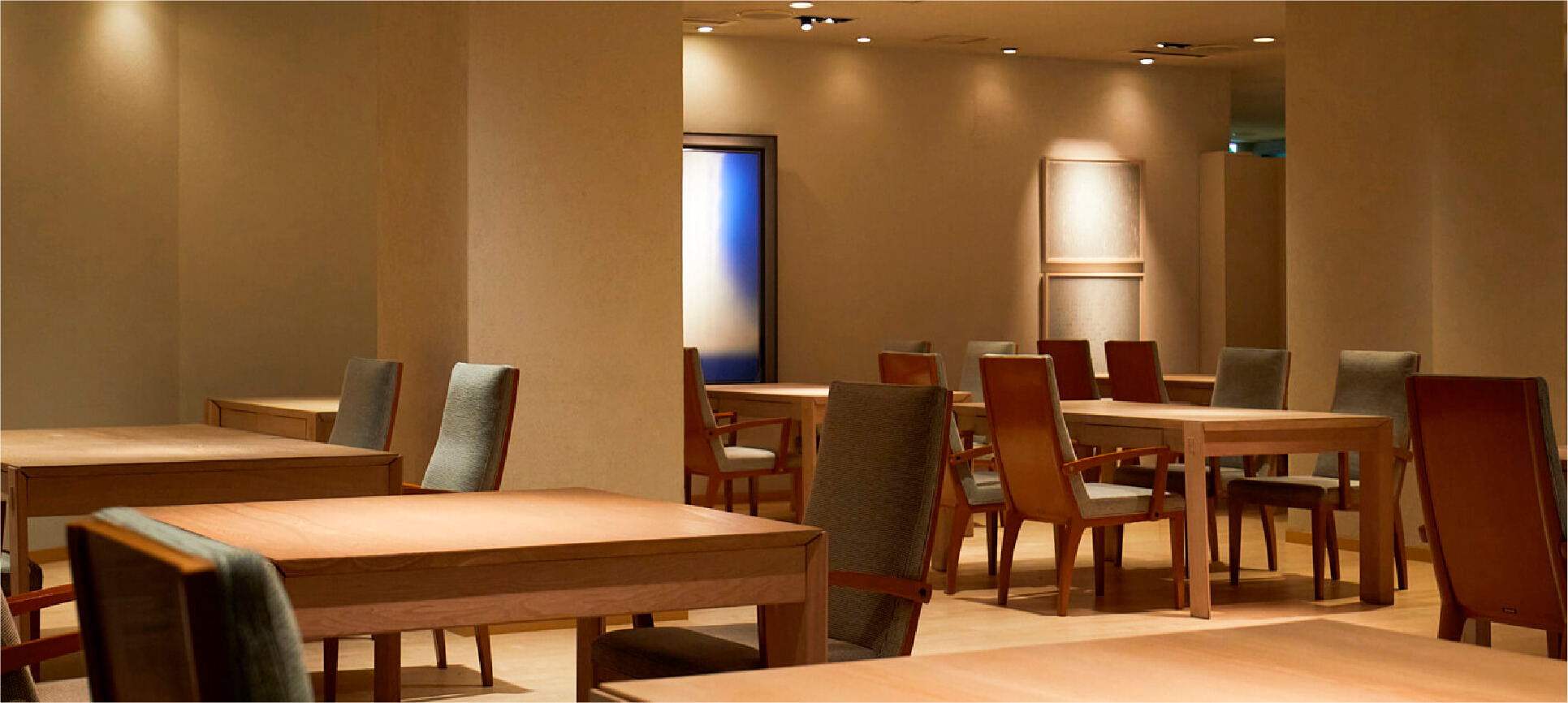 When the chef and staff go foraging for ingredients, they take great care not to overharvest. They accompany experts in wild vegetable and mushroom picking and only collect what's necessary. Catfish, softshell turtles, and mitten crabs caught in nearby rivers are also collected with an eye towards preserving local resources for future generations.
The restaurant also offers a wide variety of sustainable and delicious drinks using locally sourced ingredients, such as traditional tea, cocktails made with homegrown herbs and yuzu, and walnut liquor that is being aged for several years. Trésonnier's diverse efforts have been recognized, earning it a Michelin Green Star in the "Michelin Guide Hokuriku 2021 Special Edition" for its dedication to sustainable practices.
The staff expressed their desire to make such renovations and sustainable initiatives the norm in the industry, rather than just being perceived as cutting-edge. Creating luxurious yet sustainable guest rooms that make guests feel like "this is also a great idea" will be a wonderful gift for the next generation. That is the feeling we have.
(First published: April 2023)